Healthy Smiles
Helping you achieve optimal oral health is our primary concern

Good oral health and beautiful smiles are the cornerstones of our practice.  We care about more than your teeth—we care about you and we are committed to helping you make informed decisions about your dental care that will lead to better dental and general health.  These decisions are based on solid science, an understanding of your dental needs and the smile you want.
Our goal is to help our patients enjoy a comfortable dental experience.  We provide you many resources from which to choose to ensure that your visit is as relaxed as possible.  For example we have IPods with many music selections, blankets, heated neck and shoulder wraps and massaging chairs. We offer paraffin wax hand treatments and warm towels after your treatment is complete
We use state-of -the-art sterilization procedures, using disposable items whenever possible.  We comply with OSHA and ADA regulations to ensure your health and safety.  Our up to date sterilization center assures proper handling of all instruments.
When you visit our office, you can feel confident that your health, and ours, is protected
In the event of a dental emergency we are always available.  If you phone the office after hours you will be directed to the person on call.  They will return you call as soon as possible.  Our coverage is 24/7.
Related Dental Injury Articles
An Introduction to Sports Injuries & Dentistry
Dental injuries incurred during sports activities are highly treatable, and can involve positive outcomes if participants act quickly to see a dentist after an injury. However, if not treated quickly these kinds of injuries can lead to discomfort, embarrassment and a lifetime of dental costs… Read Article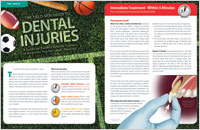 The Field-Side Guide to Dental Injuries
Accidents to the teeth, jaws and mouth can happen at any time during any sporting activity. Proper attention can save pain, alleviate anxiety and costly dental treatment. A little knowledge, as they say, can go along way. This field-side guide briefly explains some simple rules to follow when dealing with different dental injuries and when you need to see the dentist… Read Article
Athletic Mouthguards
There are times when an athlete can feel invincible… able to connect on every jump-shot, run faster and longer, or hit every pitch, but statistics show that even on their best days accidents can happen. An ounce of prevention goes a long way… For a small cost, a protective mouthguard can prevent excess anxiety, risk, injury, pain, suffering, and years of dental treatment… Read Article