Smile Technology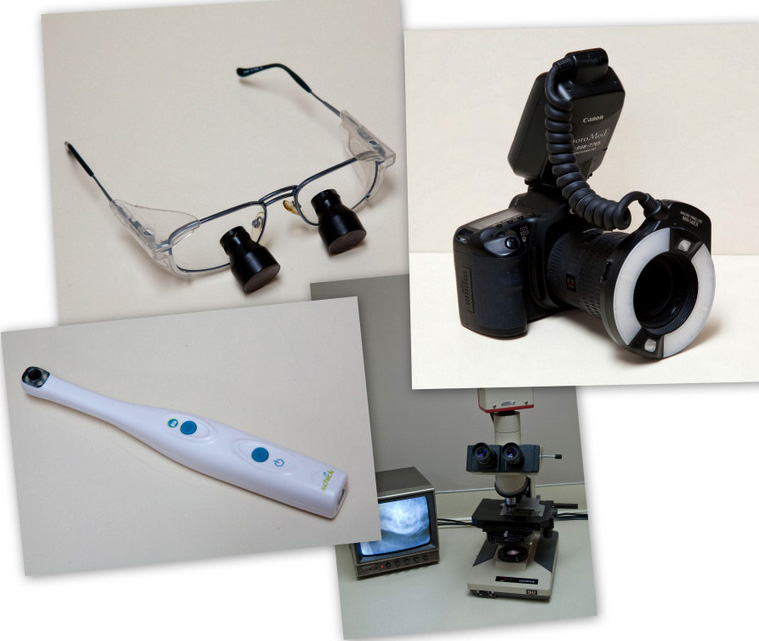 Our team believes that it is important that we keep informed of the latest technological innovations and advancements in the field of dentistry.  During the past few years, many new technologies have emerged to advance proper and high quality dental care.  With that in mind, we have selected those advancements that we feel offer the greatest benefit to our patients.  Some of these are profiled here.
Magnification: We wear customized surgical telescopes (2.5x-3.5x) when we work.  We believe that the better we see the better job we can do for you.
Digital x-Rays: One of the most recent advances in technology is digital radiography.  Rather than capture the image of your tooth on film, a sensor captures the image digitally and stores it on a computer file.  An important safety consideration is that digital radiographs decreases the radiation dose by 80-90%
Digital camera: Photographs assist us to visualize better.  By taking digital photos we are able to communicate with other dental professionals who are participating in your care.  It also gives helpful information to our labs which allows them to produce a customized restoration that meets our high expectations.
Intra-oral camera: This small camera magnifies your tooth on the computer monitor so you can see what we see 10 times magnified.  A picture is worth a thousand words…
Phase Contrast Microscope: Some bacteria in your mouth may be harmful.  By checking your oral bacteria, your hygienist can identify whether you are at risk for future infection.