Smile Options
Crowns:  are used to protect the tooth and improve its shape and color.  Crowns are most often used for teeth that are broken, have large fillings or have portions destroyed by tooth decay.  In effect, the crown is cemented on and becomes your tooth's new outer surface.
Bridges:  are replacements for missing teeth.  They help restore your smile, help maintain the shape of your face and alleviate the stress of your bite.  A bridge literally bridges the gap where one or more teeth may have been.  It is generally made from gold with a covering of porcelain and is bonded onto surrounding teeth for support.
Veneers:  consist of a covering layer of porcelain, which is custom sculptured by specialized lab technicians to our very detailed plans.  Veneers provide improved shape and color for your teeth.  Their color is designed to enhance the natural beauty of your smile.  They can be used to correct imperfections such as worn and discolored teeth, mild crowding, and gaps-which are why they are often referred to as instant orthodontics.
Tooth colored fillings:  Your fillings no longer have to be made of silver and mercury.  We use composite resin, a tooth colored material that comes in a wide variety of shades, to enable us to match the teeth we are restoring to their natural beauty and function.  No more unsightly black filling and gray discolored teeth.  The composite resin material we use is not only beautiful but strong as well.
Dental Implants:  A missing tooth can have a negative effect on your appearance and function.  The most effective way to replace a missing tooth is with a dental implant.  A dental implant, made of titanium, replaces the root of your missing tooth.  After the dental implant is firmly anchored in place to the bone, a new crown is made to fit it.  The restoration looks and feels almost as natural as your own tooth.  Dental implants may also be used to anchor dentures, so that you can eat and smile with confidence.
Tooth Whitening:   Everybody loves a bright white smile, and there are a variety of products and procedures available to help you improve the look of yours.  If you are interested in making your smile look brighter, you should investigate all your options, or talk to your hygienist.
Related Cosmetic Dentistry Articles
Cosmetic Dentistry – A Time For Change
Join us as we review the myriad of possibilities available to you for cosmetic dental change. But the biggest part is not just how your smile looks, it's how you feel when you show it… Read Article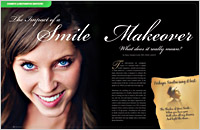 The Impact of a Smile Makeover
Americans are catching on to the emotional and social importance of a healthy, beautiful smile, and they're seeking out ways to improve their smiles. Learn why and what a change could mean for you… Read Article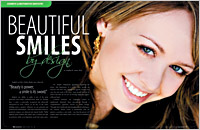 Beautiful Smiles by Design
The first in a series of articles dedicated to the "art and science" of designing a more appealing smile. One of the country's foremost leaders in cosmetic dentistry discusses how you and your dentist partner to create a great new look… Read Article
How And Why Teeth Wear
Are teeth supposed to last for a lifetime? And are humans designed to live for up to a hundred years? Given all the current improvements in the areas of medicine and health, both general and oral, people are not only living longer, but they are also keeping their teeth longer. This article will provide an overview of the "oral system" and one of its more common and important occurrences, tooth wear… Read Article