Children

OUR GOAL
We want to work with parents to help their children grow up having minimal dental needs and an understanding of how to maintain good dental health throughout their lives.
This takes a different approach. It required parental involvement and a much more active role between you and your dental team than you may have experienced before.
A child's age of 3 1/2 is a good time to start. We'll look forward to sharing this program with you.
 

"Great dental practice. Everyone is so personable. They do whatever they can to make your experience pleasurable. I highly recommend them and love their unique technique with kids."

Kerry, August 2010
Related Pediatric Dentistry Articles
Dentistry and Oral Health for Children
As part of our special section on oral health topics affecting kids, Dear Doctor brings you this wide-ranging overview of milestones and transitions in your child's dental development. Learn how to protect your children from tooth decay, dental injuries, and unhealthy habits while getting them started on the road to a lifetime of oral health and general well-being… Read Article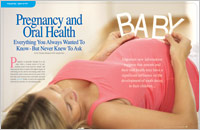 Pregnancy & Oral Health
Pregnancy is generally thought of as the time when a woman strives to be particularly aware of the need for "health". Many women though may not be aware of the link that exists between their oral health and their systemic (general) health, as well as the impact that many other factors can have on a developing child. Learn about how to care for yourself and your baby… Read Article
How to Help Your Child Develop the Best Habits for Oral Health
Proper oral health habits are easy to learn – and lead to behaviors that result in life-long dental health. And the time to begin is as soon as your child's first baby teeth appear. From tooth-brushing for your toddler to helping your teenager stay away from tobacco, Dear Doctor offers the most important tips for healthy habit formation through childhood and beyond… Read Article
Top 10 Oral Health Tips For Children
There's no need to wait until your baby actually has teeth to lay the foundations for good oral or general health. In fact, good nutrition and oral hygiene can start right away. It is up to you to develop the routines that will help protect your child from tooth decay and other oral health problems. So let's get started… Read Article