Treatment Coordinators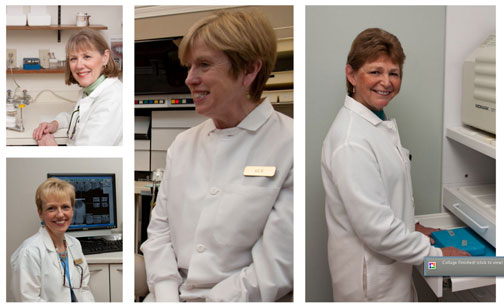 Our team of chairside assistants considers it a source of pride to make your appointments in this office pleasant.  Maureen, Sue and Valerie have extensive dental knowledge, and their years of experience combine to provide our clients with an exceptional level of care.  Your comfort is their highest priority.
We offer a nice selection of music for your listening pleasure and, if you choose, neck pillows or warm shoulder wraps for your comfort.  Paraffin wax hand treatments are available to you during treatment and heated towels are offered at the end of your appointment. 
Experience just how far dentistry has come.

Our in-office dental lab is one of the primary responsibilities of Derrell.  She does much of the initial preparation in our onsite laboratory which allows for quality control and an exceptional end product.  The final stage of fabricating our beautiful dentistry is done at outside labs which are all located in the United States and use only the highest quality dental materials.